Citigroup investors reject bigger executive pay deal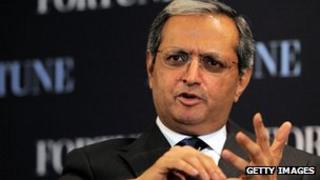 Citigroup shareholders have voted against giving top executives a bigger pay deal in a rare show of investor discontent.
The package, which had increased chief executive Vikram Pandit's pay to $15m (£9m), was backed by just 45% of shareholders.
Citigroup's board said it would meet shareholders to discuss what it called a "serious matter".
High executive pay has come into focus after the global financial crisis.
Citigroup, which was one of the many banks to be rescued during the crisis, received $45bn in bailout funds from the government in 2008.
"It's a loud clarion call and an embarrassment to the directors, who now have to clarify compensation metrics they use," said Jeffrey Sonnenfeld of Yale University's School of Management.
However, the shareholder vote is not binding on the bank.
'Disconnect'
A number of issues have combined to prompt many shareholders to question the amount of money that top executives are now being paid.
On Tuesday, Citigroup said its net income declined 2% to $2.9bn (£1.3bn) in the first three months of the year, when compared with the same period last year.
The bank's shares have also taken a beating, falling by 24% in the past twelve months. The stock has lost more than 90% of its value in the past five years.
To make matters worse, Citigroup was one of the four major US banks that failed a stress test carried out by the authorities earlier this year.
The tests were conducted to gauge if the banks would be able to withstand a serious downturn in the financial markets.
That led to the US Federal Reserve turning down a request by the bank to buy back shares or pay a higher dividend.
Analysts said that shareholders were not happy with the fact that the bank was increasing compensation to its top executives while investors were losing out.
"Citigroup is one of most egregious examples of disconnect between incentives of top management and value creation of shareholders," said Mike Mayo, bank analyst at brokers CLSA.
"The owners of the big banks, namely the shareholders, are finally taking a greater amount of responsibility by speaking up."