Who are the Kwok brothers?
By Juliana Liu
Hong Kong correspondent, BBC News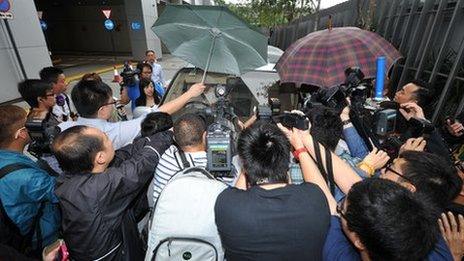 Housed in a glass atrium atop Hong Kong's third-tallest skyscraper, Sky City Church boasts panoramic views of Victoria Harbour.
On a recent Sunday, its charismatic Australian pastor urged the congregants to close their eyes and raise both hands toward the heavens.
"Let Jesus provide a supernatural answer to life's natural challenges," Pastor Wayne Crook told a mixed crowd of about 150 local and expatriate English-speaking worshippers.
Among them sat devout evangelical Christian and billionaire property developer Thomas Kwok, 60, who is currently facing a scandal that is the talk of the town.
Three weeks ago, Mr Kwok, his younger brother Raymond and Rafael Hui, previously the second-highest ranking government official in Hong Kong, were arrested by the city's anti-corruption agency on suspicion of bribery.
The three have not been prosecuted with any crime.
But the continuing investigation by the Independent Commission Against Corruption (ICAC) casts a shadow over the company the brothers run together.
Hong Kong-listed Sun Hung Kai Properties is Asia's most valuable real estate company and the second most valuable in the world, after a shopping mall operator in America.
The case also throws a spotlight on a dynasty notable for a violent headline-grabbing family kidnapping, accusations of infidelity and a bitter boardroom battle.
Long-time Hong Kong-based shareholder activist David Webb says the Kwok family is the Asian version of the American oil industrialists, the Gettys.
The Kwok brothers are the joint chairmen and managing directors of a company with a market value of $32bn.
That is roughly equivalent to 14% of Hong Kong's entire economy.
For comparison, Mr Webb says a company would have to be three times more valuable than Apple for it to be as important to the US economy as Sun Hung Kai is to Hong Kong.
Collectively, its properties compose this city's iconic skyline.
Their notable buildings include the International Commerce Centre (ICC), currently the tallest building in Hong Kong, and One IFC and Two IFC, where many international investment banks make their home.
Central Plaza, which houses Sky City Church, was the tallest skyscraper in town until 2003, when it was surpassed by Two IFC.
Church organisers say the building's developers gave them the prime location, which is occasionally rented out as a function room during the week.
The properties are the crown jewels in a business founded by patriarch Kwok Tak-seng, who arrived in Hong Kong from Guangdong - the neighbouring province in China - after World War II.
He first started a grocery store, then moved onto selling Japanese zips at a time when the city's garment industry was taking off.
Eventually, he went into the property business, establishing Sun Hung Kai with two partners in 1958.
One of the partners, Lee Shau-kee, eventually founded Henderson Land Development, another top property firm.
Mr Lee ranks just behind the Kwok brothers in this year's Forbes global billionaires list.
The elder Kwok continued to run the company until he died of a heart attack in 1990, at which point leadership of the family firm, by then a listed blue-chip, passed to his eldest son, Walter.
The Kwok family's wealth caught the eye of Cheung Tze-keung, an ambitious gangster known as "Big Spender".
After being tried and acquitted for armed robbery, Cheung hatched a plot to kidnap the city's ten richest people for ransom, according to Hong Kong media.
Reports say, in 1996, he successfully kidnapped and ransomed Victor Li, the eldest son of Li Ka-shing, Asia's richest man, who owns businesses from ports to shipping to property.
Mr Li, known here as "Superman", was believed to have cooperated quickly, with little fuss. He reportedly paid a record ransom of more than HK$1bn ($128m; £83m).
Emboldened, Cheung and his associates went after Walter Kwok a year later.
Unlike the younger Mr Li, Mr Kwok reportedly refused to cooperate with the kidnappers, so he was stripped and beaten.
Hong Kong media say he was kept in a wooden crate for several days, until his family paid the ransom, a rumoured HK$600m.
Cheung eventually faced a firing squad in mainland China in 1998. He was said to have confessed to the kidnappings.
While Walter Kwok retained his title as chairman and chief executive of Sun Hung Kai Properties following the kidnapping, in reality he relinquished day-to-day control of the company to his younger brothers, Thomas and Raymond.
Francis Lun, a stockbroker and managing director of Lyncean Securities, says it is common knowledge in the financial community that Walter Kwok developed psychological problems as a result of the ordeal.
"He developed anxiety. He couldn't get along with his fellow workers," Mr Lun says. "His younger brothers put him in charge of food and beverages, a non-essential unit."
Mr Kwok has denied allegations that he has any mental disorder.
Hong Kong media reported that Walter Kwok had rekindled a romance with a former girlfriend, who they said was enormously influential in his business decisions.
The alleged affair was the catalyst for an attempt by the younger brothers, Thomas and Raymond, to remove Walter from the board.
The family feud became public knowledge in 2008, when Walter Kwok sought a court injunction to stop his removal.
He lost, and his mother replaced him as chairman in May 2008. She eventually passed her job to her two younger sons.
The fact Walter Kwok was not arrested by the corruption watchdog has led some people to suggest he was the one who gave information to the authorities.
"The mother left him out of the family trust. He felt he was being wronged. He is getting his revenge," says Mr Lun, the stockbroker.
The corruption authority has declined to give details of the investigation.
And, except for a brief press conference in early April when Raymond and Thomas said it was "business as usual" at Sun Hung Kai, the firm has not provided details either.
Mr Webb, the shareholder activist, is less certain that Walter Kwok is the source of the corruption probe.
But he believes the investigation is tarnishing the image of the property firm and the Hong Kong government, which has always prided itself as being squeaky clean.
"Its just one more tile in the mosaic of collusion between business and government," he says.
Fully backed by their board, Thomas and Raymond Kwok continue to run Sun Hung Kai.
And, accompanied by burly bodyguards, Thomas Kwok regularly attends services at Sky City, believed to be the tallest church-in-a-skyscraper in the world.
His strong Christian faith will no doubt fortify him during the investigation.