TUC general secretary Brendan Barber to retire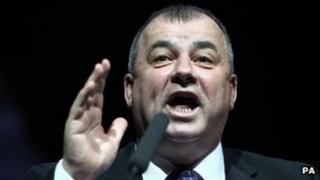 Brendan Barber, general secretary of union umbrella body the Trades Union Congress (TUC), is to retire at the end of the year.
He will have been in the job for 10 years and has worked at the TUC since 1975.
"I have decided that this is the right time to make a change in my life," he said.
The election of Mr Barber's successor will take place at the TUC conference in September.
He was elected in December 2002 and officially took over from John Monks, now Lord Monks, in May 2003. He had been deputy general secretary since 1993.
"The TUC has always been a powerful voice for the millions of ordinary people who depend on trade unions to better their lives and there is so much of our work over the years in which I take great pride," he said.
"But I have every confidence that under new leadership the TUC can go from strength to strength."