YPF oil: Spain threatens retaliation against Argentina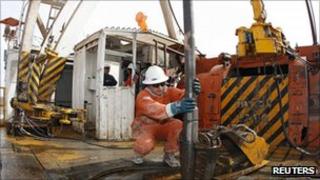 Spain has threatened retaliation against Argentina over the forced nationalisation of oil firm YPF, raising the prospects of a trade war between the nations.
YPF's controlling stake, owned by Spain's Repsol, was seized by President Cristina Fernandez's government.
Spain's Industry Minister Jose Manuel Soria said it was considering unspecified action on diplomacy, trade, industry and energy.
YPF's debt was also downgraded.
Ratings agency Moody's cut the oil firm's debt rating to B3 from Ba3, saying further downgrades were possible.
Shares in YPF fell by 30% on Wednesday in New York after trading in the group had been suspended for a day and a half.
It means the firm has lost some 70% of its share value since its peak in late January.
'Not unpunished'
Argentina has taken 51% of YPF, wiping out Repsol's 57.4% majority stake.
Repsol executive chairman Antonio Brufau said Argentina's move "will not remain unpunished" and it will seek $10.5bn in compensation.
The authorities in Argentina have accused YPF of not investing enough to increase output from its oil fields, and so lessen the need for imports, an accusation it rejects.
The company has been stripped of a number of leases, including in some of the biggest oil fields in the country.
In November last year, YPF, which was privatised in 1993, announced a major find of one billion barrels of shale oil.
Argentina has some of the world's largest reserves of shale oil and gas.
Separately, a Chinese news report suggested China's state-owned oil giant Sinopec had wanted to buy YPF.
Caixin.com cited a banker as saying Sinopec had reached an agreement to buy the oil company , but said it was unlikely to happen now.
"To me it looks like political suicide to now allow a Chinese company to own YPF soon after announcing the nationalisation," the banker was quoted as saying.
He questioned whether they could "flip-flop like that".
It comes after a Spanish newspaper reported in April that Chinese rival CNOOC planned to buy YPF for 9.16bn euros ($12bn; £7.4bn).