WH Smith plans expansion for its travel business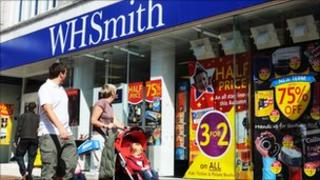 WH Smith is planning further expansion for its travel business, which operates shops in airports, railway stations and motorway service areas.
It plans to open 17 new stores in the second half of the year, adding to the 18 opened in the first half.
The retailer will also expand its international operations, with 20 new stores in other countries, including India, Australia, and Saudi Arabia.
Pre-tax profit for the six months to 29 February was up 3% to £66m.
But the interim results showed that sales fell 3.1% to £665m.
Sales of entertainment products - which are mainly popular DVDs - plunged 47%. WH Smith is limiting the space it devotes to DVDs and new stores generally offer none at all.
Chief executive Kate Swann said: "We expect the trading environment to be challenging."
"However we are a resilient business with a consistent record of both profit growth and cash generation and we have opportunities for growth in the UK and internationally," she said.
The travel business reported an 8% rise in operating profit to £27m.
Ms Swann said she did not expect a boost from the London Olympic Games as transport restrictions would make it more difficult to stock stores.