BA fuel surcharge fine cut by OFT to £58.5m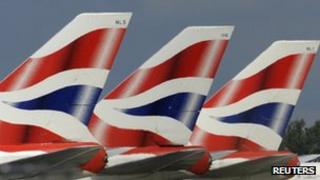 The Office of Fair Trading (OFT) has sharply reduced a fine imposed on British Airways for price-fixing.
The original fine, imposed in 2007, was £121.5m, but the OFT has reduced that to £58.5m.
The OFT said the reduction reflected recent legal developments and BA's co-operation in the case.
British Airways was fined for colluding over fuel surcharges with rival Virgin Atlantic. Virgin was not fined as it told authorities about the scheme.
Ali Nikpay, OFT Senior Director of Cartels and Criminal Enforcement, said: "This decision brings an end to this investigation and sends out a strong message that co-ordinating pricing through the exchange of confidential information between competitors is unlawful.
"The fine would have been higher still but for the co-operation provided by BA throughout the OFT's investigation.
"Without this, together with BA's admission of the infringement, the case would have taken considerably longer to resolve," he said.
The original investigation looked at the period between August 2004 and January 2006, during which fuel surcharges rose from £5 per long-haul flight to £60.
According to BA, on three of the six occasions that the firms colluded, it was Virgin that approached BA about plans to change its fuel surcharge.
In a statement on Thursday British Airways said: "We are pleased that this matter, which concerned events between 2004 and 2006, has been settled."