Bank of America sees profits drop to $653m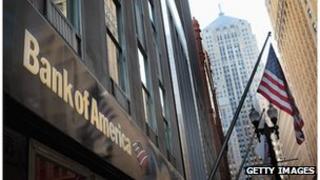 Bank of America has reported a fall in first-quarter net income to $653m (£407m; 498m euros) after making $2bn a year ago.
The fall was caused by accounting charges related to its debt.
Revenue was $22.5bn compared with $27.1bn for the same period in 2011.
Rival bank Morgan Stanley also fared less well in its first quarter, because of an accounting charge of $2bn leaving it with a loss of $119m, compared with a profit of $736m a year ago.
Leaving that aside, however, Morgan Stanley would have earned $1.4bn, compared with $1.1bn a year ago.
The bank's revenue was $6.9bn, down from $7.6bn a year ago.
Bank of America's chief executive, Brian Moynihan, said his bank was stronger, with a rise in reserves, and its profitability had risen since the previous quarter.
The bank is one of the world's largest financial institutions, with some 57 million customers.
Bank of America's chief financial officer, Bruce Thompson, said it had increased its important reserves, known as Tier 1 capital, by 92 basis points from the fourth quarter of 2011.
The bank passed the Federal Reserve's stress test in March, an event that moved investors' focus from its capital needs to its ability to increase its profits.
Morgan Stanley also passed the test in March.