Glaxo's $2.6bn bid for Human Genome Sciences rejected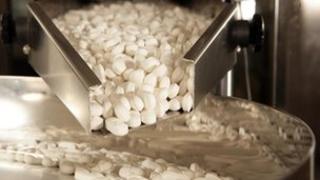 GlaxoSmithKline's $2.6bn (£1.6bn) offer for Human Genome Sciences (HGS) has been rejected after the US firm said the offer was not enough.
Glaxo's offer was worth $13 a share. That is almost double the closing price of HGS shares on Wednesday of $7.17.
HGS has already partnered Glaxo in the development of a treatment for lupus, a condition which affects the immune system.
HGS is also developing a treatment for anthrax for the US government.
In a statement, HGS says it "has carefully reviewed and considered the GSK offer and has determined that the offer does not reflect the value inherent in HGS".
HGS management is taking advice on selling the company and Glaxo has been invited to take part in that process.