Olympus shareholders approve new board of directors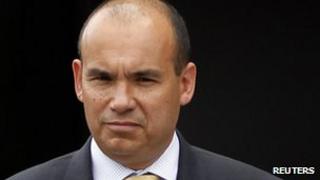 Olympus shareholders have approved the appointment of a new board of directors at an extraordinary general meeting.
The company had nominated new members to the board after all of its previous members quit in the wake of an accounting scandal.
It has admitted to hiding $1.5bn (£1bn) in losses for as long as 20 years.
However, former chief executive Michael Woodford, who blew the lid on the scandal at the firm, has threatened to have the results annulled.
The board refused to answer a question about the reasons for Mr Woodford's dismissal, which the former boss said gave shareholders the right to ask the courts to invalidate the meeting.
"Today is the day the new Olympus is supposed to start. It's a mockery," Mr Woodford said.
"It's why the world looks on and continues to think this world works in a completely different way. It's Alice in Wonderland."
'Win back trust'
The scandal, whish broke out in October last year, resulted in the company's share price plunging by almost 50% on the Tokyo Stock Exchange.
Several former senior members of management, including former chairman Tsuyoshi Kikukawa, ex-executive vice president Hisashi Mori and former auditor Hideo Yamada, have been arrested.
The company is also being investigated by authorities in Japan.
Hiroyuki Sasa, Olympus's new president, said that his immediate priority was to "fix the damaged brand and win back trust as soon as possible".
Mr Sasa added that in order to achieve a turnaround at the firm he would reform the management structure to ensure that such a scandal did not happen again.
"By working together with the new management, I plan to do my best to rebuild trust and improve the firm's value."
Yasuyuki Kimoto, a former executive of Sumitomo Mitsui Banking Corporation, one of Olympus's main lenders, was voted in as the firm's new chairman.