UK retail sales jumped 1.8% in March, ONS reports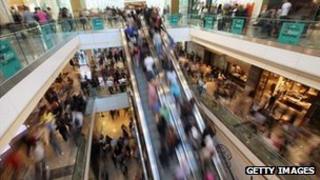 UK retail sales recorded their biggest monthly rise in more than a year in March, driven by the spell of warm weather and panic buying of petrol.
The Office for National Statistics (ONS) said that UK retail sales volumes rose 1.8% last month.
The ONS said warm weather in March had helped to boost sales of clothing, footwear and gardening products.
The rise follows a decline of 0.8% in February, which was blamed on the squeeze felt by consumers.
Over the past three months, sales volumes were up 0.8% compared with the same period last year.
Concern over a shortage of fuel contributed to the rise in March. Fuel sales jumped 4.9% last month as drivers filled their tanks, fearing a strike by fuel tanker drivers.
Consumer crunch
Analysts said that as well as the warm weather, sales were boosted by the timing of Easter.
"We have to remember that Easter was early this year so a lot of consumers might have bought their food purchases for Easter early into the month of March," said Natalie Berg, a retail analyst with Planet Retail told the BBC.
But she warned not to read too much into the March report.
"Wage growth is at just 1.4%, so we are still seeing the ongoing erosion of spending power among consumers.
"While the month of March certainly provided a nice boost for retailers it's not really an indication of a broader recovery," she said.
Economists agree that while welcome, the March figures may not have a big impact on economic growth for the first quarter of the year.
"It tells us that the consumer-facing side of the economy has had a reasonable first quarter, and will reinforce expectations that overall services growth will look OK in the first quarter," said Ross Walker, an economist at RBS.
"But construction will be a huge drag on first quarter growth, so I don't think we'll get a great reading, but the underlying picture is a bit better," he said.
David Kern, Chief Economist at the British Chambers of Commerce, said: "While a positive GDP figure will help maintain business confidence, we mustn't be complacent."
"Economic growth in the UK is still too weak and businesses must be empowered to drive the recovery - especially at a time when the public sector is shrinking," he said.