Superdry owner Supergroup issues profit warning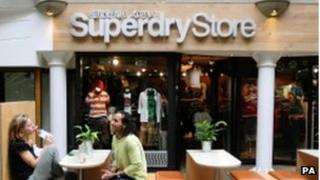 Shares in the company behind the Superdry fashion chain have plunged by more than a third following another profit warning.
It expects pre-tax profit for the year to 29 April to be £43m.
That is worse than the update in February, when Supergroup warned that profits would be at the low end of its forecast of £50-54m.
This time Supergroup blamed an accounting error and misjudgement in forecasting demand for its goods.
It is the fourth time Supergroup has warned about profits in the past 12 months.
Credibility 'thin'
Supergroup shares plunged by 37% by the close of trading on Friday.
Shares had fallen even further, losing almost 40%, during a conference call held by the company for analysts and investors.
During that call it emerged that Supergroup management had found out about the latest problems during the past 24-36 hours.
They said the accounting error was down to a simple arithmetic mistake.
Nick Bubb, an independent retail analyst, said: "Management credibility has worn extremely thin. They are lucky that a new finance director starts on Monday and a new chief operating officer starts soon."
"The market has long wondered if the bubble is about to burst - but there's not much evidence of that. The Regent Street flagship store has shown that its is still a very strong proposition.
"But they've got to knuckle under and prove the market wrong," he added.
Jonathan Pritchard, retail analyst at Oriel Securities said: "The company has clearly outgrown its internal control systems. The new executives need to make sure the systems are suitable for a business of this scale."
"They have a very strong underlying brand. There will be strong sales growth. But this is the fourth profit warning in 12 months. A lot of investors will say this is not a company I can put my money into for the time being."
Other analysts are even more gloomy.
"We think today's statement brings into question the long-term sustainability of profit growth if the brand is, as we believe, in decline," said Numis Securities in a research note.
Other analysts point out that Superdry is in a very difficult market as teenagers are one of its key customers.
Supergroup has grown significantly in recent years since the opening of the first Superdry-branded shop in 2004, helped by celebrities David Beckham, Jude Law and Pippa Middleton wearing its clothes.
"This was a brand that grew and grew over the last decade out of nothing on celebrity endorsement," said marketing and brand consultant Peter York.
"[It] grew out of its comfort zone," he told BBC News. "If you grow that fast, integrating the people and the systems is very difficult."
Discounts
The accounting problem was blamed on an "arithmetic error" worth £2.5m concerning Supergroup's forecast for the wholesale business.
Supergroup also misjudged the demand for its clothes and other fashion items from stores at the end of the financial year.
That resulted in a £2m adjustment to wholesale sales, which are now expected to be moved into the 2012-13 financial year.
Other costs of £2m were incurred in delivering products and building-up the management team.
In February, chief executive Julian Dunkerton said rival retailers had been making the deepest discounts he had ever seen.
But he thought that profit margins would rise this year, partly because cotton prices were likely to fall.
Supergroup's latest forecast of full-year profits of £43m would represent a fall in profits on the previous year.
The firm made £47m in the 2010-11 financial year, a time of huge expansion when profits more than doubled.