General Electric profits hit by one-off charges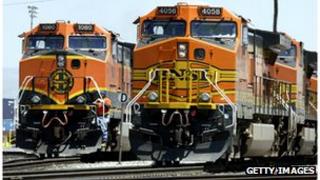 US industrial conglomerate General Electric (GE) has reported a fall in first-quarter profits.
The firm made $3.03bn (£1.88bn) in the three months to the end of March, down 10% on the £3.36bn made in the same period last year.
This year's results were hit by one-off charges, including a $200m charge related to an Irish mortgage business.
But the firm said that infrastructure orders were at a record high, boosted by emerging markets.
That included orders from South Africa's Transnet for 43 new trains, bringing the total number of GE trains that have been ordered to 143 since 2009.
GE also got engine orders from Kenya Airways and Qantas, as well as its oil and gas division receiving orders worth $1bn to supply equipment and services for a liquefied natural gas project in Australia.
Growth is accelerating in many emerging countries, fuelling demand for transport and energy grid projects across the word.
'Industrial growth'
Taking out its one-off costs, GE made $3.6bn in the first quarter up 1% and more than analysts expected.
GE chief executive, Jeff Immelt said: "Today's results demonstrate that we are achieving industrial growth and GE Capital continues to grow stronger.
"This quarter we witnessed broad-based strength in orders across all our infrastructure businesses and in both equipment and services," he said.
GE is the world's biggest maker of jet engines, but is strong in other industrial areas, including equipment for power stations and transport infrastructure.
"If you look into the details, that beat [performance above analyst expectations] came at the expense of human capital, and we're still not seeing the growth we had experienced in previous quarters," said Todd Schoenberger, managing director at Landcolt Trading.
"In addition, there's a curbing of enthusiasm for the upcoming quarters because of the potential slowdown in Europe and possibly China."