India's Reliance sees quarterly profits drop 21%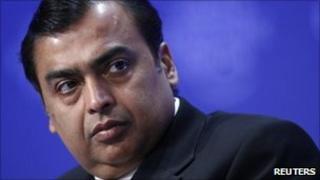 Reliance Industries, India's largest private company, has reported a second consecutive quarter of falling profits.
Net profit was 42.34bn rupees ($830m; £515m) in the three months to March, down 21% from the previous year.
Reliance, run by India's richest man Mukesh Ambani, was hit by falling oil and gas output. Crude oil production fell 38%.
Last year, the UK's BP paid $7bn to buy a stake in 21 of its offshore fields.
Expansion
"We have created a strong foundation for future growth and are investing in our upstream and petrochemical business in India," Mr Ambani said.
But natural gas production fell 23.5% due to "unforeseen reservoir complexities" at one of its facilities.
Reliance operates the world's largest oil refining complex in Jamnagar, which is able to process 1.24 million barrels of oil a day.
As well as seeking acquisitions, Reliance has been expanding into financial services, retailing, hotels and entertainment.
Mr Ambani, 54, recently topped the list of billionaires from the country in the Forbes magazine's annual list of the world's richest billionaires.
He has amassed a $22.3bn fortune and is ranked 19th in the the global rich list, the magazine said.
Of the 1,226 billionaires in this year's Forbes list, 48 are from India.