UK company profit warnings in 'rollercoaster ride'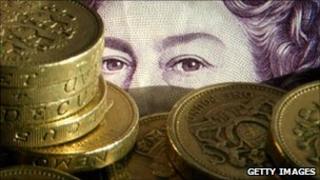 A flurry of profit warnings at the start of the year were followed by a sharp dip in March, suggesting 2012 will be a year of unpredictability.
Business services firm Ernst & Young said there were 73 profit warnings issued during the first quarter of 2012, compared with 75 last year.
But they were uneven, hitting a three-year high in January and February, followed by a nine-year low in March.
It said the findings pointed to a "rollercoaster ride" for UK companies.
Ernst and Young said that easing off was due to an easing in eurozone tensions and an improvement in UK economic growth prospects.
Weak growth?
The latest official estimate of UK economic health will come on Wednesday with the release of the latest gross domestic product figures (GDP).
The Office for National Statistics is expected to reveal the economy just missed going into recession - defined as two consecutive quarters of negative growth - by growing 0.1% in the first quarter of 2012.
It shrank by 0.3% in the last three months of last year.
The independent Office for Budget Responsibility, which provides forecasts for the government, expects the economy to grow by 0.8% over the whole of 2012 and by 2% in 2013.
Ernst & Young's own Item Club of forecasters said last week that the UK economy would register "dismal" growth of 0.4% this year, rising to 1.5% in 2013.
The organisation said that there were fewer warnings from retailers than was normal for the time of year, but that only reflected lower expectations and was not a sign for hope.
'Tremors'
The head of Ernst & Young's UK restructuring practice, Alan Hudson, said: "Retail sales should grow in 2012 - in contrast to 2011 - but there is still very little forward momentum and winners in one area can only create losers in another.
"However it's not just the lack of spending, but the rapid change in the way consumers are spending, that's causing the biggest tremors across the sector."
Mr Hudson said the special events taking place in the UK this year made it even harder to predict the economic outlook.
"It's still a tough consumer environment and the high oil price and uncertain impact of the Olympic and Jubilee summer on the travel sector in particular makes 2012 a tough year to predict."
The Bank of England itself has said the economy is expected to "zigzag" in and out of growth this year and that the extra Jubilee bank holiday caused problems for economic forecasters.
The Bank of England has increased its quantitative easing programme - aimed to boost the economy by buying bonds - to £325bn this year, and has continued to hold interest rates at a record low of 0.5%.