Manufacturing pay up a 'below average' 2.6%, says EEF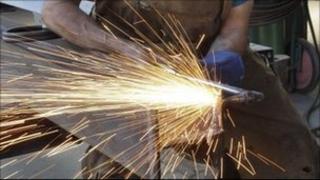 UK manufacturing pay rises averaged 2.6% in the past three months, barely changed from the 2.5% seen in the previous quarter, an industry body has said.
The manufacturers' organisation the EEF said the rate was still below the long-term average.
The EEF said that with the main bargaining round for annual settlements over an "air of realism" had prevailed in pay negotiations.
Inflation is currently running at 3.5%.
The EEF survey, carried out with JAM recruitment, found one in 10 pay rounds did not result in a pay rise.
The chief economist at the EEF, Lee Hopley, said: "The main pay bargaining round for manufacturing has passed with little or no pay pressures evident.
"It is clear that the cocktail of competitive pressures and continued economic uncertainty is leading to a sense of realism on both sides of the negotiating table."