Nestle to buy Pfizer Nutrition for $11.85bn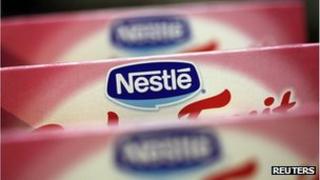 Food giant Nestle has announced a deal to buy children's food maker Pfizer Nutrition for $11.85bn (£7.35bn).
The world's biggest food group, based in Switzerland, said its new acquisition was a "perfect complement" to its existing infant food business.
It said it expected sales at Pfizer Nutrition, 85% of which are in emerging markets, to be $2.4bn this year.
The deal, which had been expected this month, is still subject to regulatory approval.
"Pfizer Nutrition is an excellent strategic fit and this acquisition underlines our commitment to be the world's leading nutrition, health and wellness company," said Nestle chief executive Paul Bulcke .
Nestle beat a rival bid from French food group Danone to the deal.
"The price tag is high, however Nestle is securing a high growth/margin business with high exposure in the emerging markets. China will become the number three market for Nestle overall," said Vontobel analyst Jean-Philippe Bertschy.
Pfizer Nutrition's brands include S-26 Gold, SMA and Promil.
Last week, Nestle reported improved sales of 21.4bn Swiss francs ($23.4bn; £14.6bn) for the first three months of the year, but said trading had been subdued in developed markets.