Jamaica struggles toward a sound economic future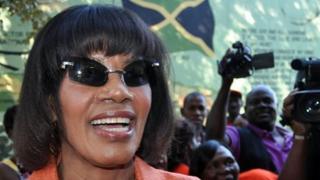 Half Way Tree is always busy. The traffic intersection that seemingly splits Kingston into two is one of the best-known views of the city, the colonial clock tower in the middle where uptown meets downtown, rich meets poor.
As office workers head to their desks, a young man at the traffic lights hustles, shouting: "Cash for your gold, any little piece we buy, money for your gold."
Kingston is like most modern cities, its inhabitants rushing to work or making money where they can.
But for many people, life is tough; it's estimated that about 17% of the population live below the poverty line on just under $4 a day.
In the business centre of the city, New Kingston, Marvin makes a living driving a taxi he's rented after losing his job in construction.
"People in my community say we need to get jobs, but there are none around, no jobs at all."
He says he's lucky to have found something.
Sticking point
Unemployment is above 12% and the country is one of the world's most indebted, owing about $18bn (£11.2bn; 13.7bn euros).
The amount the country earns is dwarfed by what it needs to repay, with a debt-to-GDP ratio of about 130% of GDP - not far behind crisis-struck Greece.
The Jamaican government has been in talks with the International Monetary Fund (IMF), part of ongoing negotiations over financial aid to the Caribbean nation.
It received an injection of $1.27bn in 2010, and the fund may provide more if certain conditions are met.
The country elected a new government in December 2011 headed by Portia Simpson-Miller; her centre left People's National Party (PNP) made a campaign promise of making a new deal with the IMF within two weeks of re-election.
Now after just over 100 days into office, a deal hasn't yet been made and the discussions remain secret.
Like the previous administration of the Jamaica Labour Party (JLP), a sticking point remains how the country will implement tax and pension reform and reduce the public sector wage bill.
Accidental success
Jamaica's fortunes have changed dramatically since independence 50 years ago.
Damien King, an economist at the University of the West Indies, says: "Its success was built upon two industries: one was bauxite and the other was tourism, and both of those were accidents of the post-war industrial boom in the US.
"America needed raw materials, the country grew richer and needed somewhere to spend vacations, and once that petered out, the Jamaican economy got into trouble."
Jamaica is still one of the largest suppliers of aluminium ore in the world, but low demand has seen prices drop and some plants close.
And the agricultural sector has declined.
Bananas used to be described as green gold here. They aren't even sold for export anymore. Increased competition and bad weather has forced many banana farmers out of business, and crippled the export trade.
They hoped manufacturing banana chips as snacks could prop up the industry, but low-cost imports from other Caribbean nations are now widely available on supermarket shelves.
Tourism continues to be the silver lining in a cloudy economy. Last year saw a record number of holidaymakers. Some 1.75 million arrived here, up by nearly 2% on 2010, but many resorts have boosted visitor numbers by discounting prices heavily.
The global recession also hit remittances hard, with people being able to send less back to the island.
Mitzi Gordon Burke Green, who works for Swift Cash, one of the island's remittance agencies, says: "We had growth up to 2009 but then it took a dive. There has been incremental growth because Jamaican people overseas are always sending money home. Even if they go without, they'll always send something for their people here."
Rising prices
In the resort town of Ocho Rios on the north coast, Anna-Kay Tomlinson is setting up for breakfast and, like many in the country, the restaurateur has to watch what she spends.
"Because of the cost of electricity, we don't sleep with the air conditioner on and every night we turn off the lights," she says.
"I always saw other people being careful at the supermarket, now we have to. I'm middle class, a business owner and pretty successful, and we've got to watch what we're buying."
In the past five years, the cost of living has gone up by more than 50% and the country now needs to find solutions and is looking to make the most of its people and resources.
Getting more people to invest in Jamaica and growing local businesses is the job of Anthony Hilton, the country's minister of industry.
He says the country needs to be more competitive and productive: "We need to broaden our private sector to include more small- and medium-sized business, and lots of work needs to be done to help the poorer sections of our society."
For Jamaica, boosting its manufacturing industry is a new priority.
At a bottling plant owned by the Wisynco Group, drinks are exported around the region and as far away as Europe.
"Manufacturing is essential. We've lost jobs in agriculture. We're losing jobs in bauxite, so the only way that we're going to be able to gain back those jobs is through manufacturing," says Wisynco chief executive William Mahfood.
The country is also trying to build its technology sector.
Call centres are being set up, making the most of the country's English-speaking population and location. The industry now employs about 10,000 people, making the country more than $35m a year.
Michelle Yeo, one of the managers at Fullgram solutions in Kingston, says: "The call centre industry is picking up now. We began just two years ago with 33 employees, now we have over 500.
"Being English-speaking gives us an opportunity to work with a wider selection of customers - we now have clients in the US, the UK and locally."
Creating jobs and diversification is key for the country to fight poverty and grow its economy, but it may need help.
Its leaders hope those fresh discussions with the IMF over a new economic programme will lead to this country getting back on track.