GDP figures to reveal UK economy recession status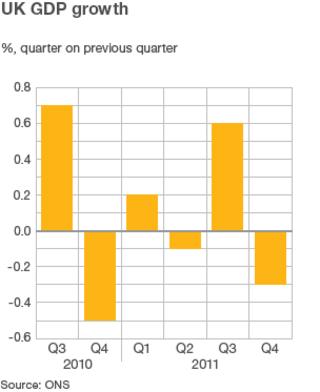 Figures released on Wednesday will show whether the UK economy is in recession.
Gross domestic product (GDP) figures will show the value of all the goods and services produced in the economy in the first three months of 2012.
If the economy turns out to have contracted, it will mean the UK has returned to recession.
But it may turn out that the economy grew in the first quarter, meaning it has continued the trend of switching between growth and contraction.
A recession is generally considered to be two consecutive quarters of negative growth.
Either way, there is unlikely to be very much growth or contraction, with many economists predicting slight growth of 0.1%.
However, David Miles from the Bank of England's interest rate-setting Monetary Policy Committee said in an interview with Bloomberg on Tuesday that "it wouldn't be a great surprise if the GDP number was a small negative number".
But he added: "It's perfectly possible to think that the underlying growth position of the economy is stronger than the headline GDP numbers. In fact, I think that's probably true."
Samuel Tombs, UK economist at Capital Economics, told the BBC that while small growth or contraction should not make too much of a difference in economic terms, politically and psychologically it could.
"A surprise on the downside or the upside could impact on consumer confidence and give an additional boost or drag on the economy," he said.
Revisions
Wednesday's figure is only the preliminary estimate from the Office for National Statistics (ONS), based on only about 40% of the information that will be used to reach later figures.
That means that if the first estimate shows growth, it could be revised in the next few months to show contraction or vice versa.
The preliminary estimate of GDP for the last three months of 2011 showed a contraction of 0.2%, which was later revised to a contraction of 0.3%.
The independent Office for Budget Responsibility (OBR) is currently predicting slight growth for the first quarter.
On the other hand, the Organisation for Economic Co-operation and Development is predicting a small contraction.
The Monetary Policy Committee warned at its last meeting of the possibility of a recession, which would continue into the second quarter of the year.
Bank of England governor Mervyn King had previously warned of a zig-zag economy, because he was expecting growth in the first quarter but then a contraction in the second quarter, when the extra bank holiday for the Queen's Diamond Jubilee is expected to reduce output.
For the first quarter, retail appears to have performed relatively well, with retail sales recording their biggest monthly rise in more than a year in March, driven by the spell of warm weather and panic buying of petrol.
On the other hand, there is concern about the construction sector, which grew by less than expected in February.