Government hits annual borrowing target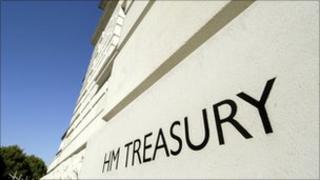 The UK government borrowed more than expected in March, official figures have shown, but still met its borrowing target for the year.
Public sector net borrowing, excluding interventions such as bank bail-outs, came in at £18.2bn in March, the Office for National Statistics (ONS) said.
However, previous months' borrowing was revised down, meaning the government met its target of £126bn for the year.
On Wednesday, figures will show how the economy performed in the first quarter.
They will show whether or not the UK economy is in recession, defined as two consecutive quarters of contraction.
The economy shrank by 0.3% in the last quarter of 2011.
The annual borrowing figure marked a reduction of almost £11bn on the £136.8bn borrowed in 2010-11.
Tax increases, such as the rise in VAT from 17.5% to 20%, and government spending cuts were the main reasons behind the reduction over the year.
The government is aiming to eliminate the deficit by 2016-17. A Treasury spokesman said: "This shows that the government's plan to reduce the budget deficit is working."
But Labour Treasury spokeswoman Rachel Reeves said: "These figures show that last year George Osborne borrowed £9bn more than he planned to at the time of his spending review."
'Sigh of relief'
Most analysts had expected borrowing of about £16bn in March.
But the higher figure of £18.2bn was more than offset by a £3bn downward revision to February's data.
Borrowing for the period from April 2011 to January 2012 was also revised up by £800m.
The ONS said in its latest release that most of the revisions were driven by changes to central government data.
This included a £1.1bn upward revision to income tax by HM Revenue and Customs, consisting of repayments and recoveries relating to the introduction of a new PAYE computer system in June 2009.
Net debt, excluding the effect of government interventions, topped £1 trillion, the equivalent of 66% of gross domestic product.
Adam Chester, UK economist at Lloyds, told the BBC there would be "a small sigh of relief" at the Treasury.
But he added that the longer-term worry was that if market sentiment changed, the UK could see a "vicious" upward change in government bond yields which could increase the cost of borrowing.
These figures were backward-looking, he said, whereas the market was more concerned with how the economy performed in the future.
Tom Vosa from National Australia Bank agreed.
"The issue going forward is if growth remains weaker, which we believe it will do, than the OBR (Office for Budget Responsibility) forecasts, then how much further progress will the government make in consolidating finances?" he said.