Argentine patriotism spooks investors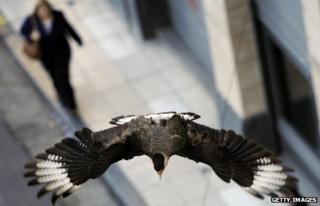 Luis Enrique Chivas, a man in a pinstripe suit with a boxer's physique, whispers "se cambia" under his breath, luring passers-by to what appears to be a tourism agency on the second floor of a drab shopping mall in downtown Buenos Aires.
Posters advertising the white sands of Cuba and the natural beauty of Peru's Lake Titicaca obscure the office's real business - the buying and selling of "blue" dollars.
Some six months since the government instituted foreign exchange controls tightening Argentines' access to US dollars, a parallel market in which customers are able to acquire the much-coveted currency above the government limits is flourishing.
So wary are Argentines of impending economic calamity that the black market is able to fetch as much as 5.3 pesos per dollar, a 20% premium to the official exchange rate.
"For me, it's a survival mechanism that hasn't brought me any trouble," says Mr Chivas, 45, a black-market vendor and a Cuban seeking refugee status in Argentina.
"It's illegal, but it's not punished."
Taking control
Tight currency controls are just one among many measures the administration of President Cristina Fernandez de Kirchner, re-elected by a wide margin last October, has embraced, resuscitating the inward-looking policies of thrice-elected Argentine president Juan Domingo Peron in the 1940s and 1950s and stoking fears among foreign investors.
The late Gen Peron remains a much-revered figure here for fuelling welfare programs with the profits of nationalised companies.
The move ultimately sank Argentina into recession, but also solidified his reputation as a champion for rank-and-file workers and the poor.
Ms Fernandez has continued the back-to-the roots Peronism of her late husband and predecessor, Nestor Kirchner, bringing such companies as the national airline under renewed state control.
Her announcement last week that the government would take control of 51% of YPF, a subsidiary of Spain energy giant Repsol and Argentina's largest company, was greeted with cheers and widespread approval among Argentines.
"Sovereignty is taking back what's ours," read posters plastered to street lights in the Argentine capital, with the letters YPF written in bold.
The move was condemned by Spain, the and Mexico, which holds a 10% stake in Repsol.
Economic development
Axel Kicillof - an economy vice-minister and the head of La Campora, a radical left-wing youth group founded by the Kirchners' son, Maximo, to promote Mr Kirchner's presidential campaign in 2003 - is among Ms Fernandez's closest advisers.
Along with planning minister Julio De Vido, Mr Kicillof was appointed to head the newly state-controlled YPF, having served previously as a director when the nation's private pension funds and airline Aerolineas Argentinas were nationalised in 2008.
During Senate hearings last week, Mr Kicillof condemned the policies of the man who privatised YPF and the state airline in the 1990s, former President Carlos Menem - also a Peronist, but a free-market one.
"During the neo-liberal period that started during the military dictatorship and that was perfected during Menem's presidency, hydrocarbons were considered simple commodities," Mr Kicillof said.
"YPF's new role has to be associated with economic development."
Energy sovereignty
President Fernandez was pressured to take action after Argentine oil production had dropped by 12% between 2003 and 2010 even as consumption gained 38%, according to a recent report by Sebastian Vargas, an analyst with Barclays Capital in New York.
Gas output dropped 2.3% during the period and reserves fell to the lowest since 1980, while demand rose 25%.
Perhaps because of its dominance in Argentina's oil and gas market, many Argentines believe YPF should be contributing more to the economy in the way of taxes and job creation, says Enrique Dentice, a pro-Kirchner economics professor at the University of San Martin.
"What the government is doing is sending a message to foreign investors that the state is going to start taking a more active role in satisfying internal demand," he says.
Indeed, at the inauguration of two new dams in the Argentine province of Santa Cruz at the weekend, Ms Fernandez suggested other government takeovers could be in store.
"The sovereignty of our energy sector is crucial," she said.
Away from Washington
President Fernandez's economic approach largely reflects a reaction to the IMF-guided free trade policies that marked Mr Menem's administration.
Many Argentines believe Mr Menem's policies precipitated the $100bn sovereign debt default in 2002.
Bolstered by sustained demand from China and other emerging economies for soy and other Argentine agricultural products, the economy grew at an annual average rate of 7.6% after Nestor Kirchner took office in 2003.
The successive Kirchner and Fernandez governments used the windfall to finance cash transfers for the poor and subsidise energy.
"The growth in the last five years at the strongest pace in over a century has vindicated a moving away from the Washington consensus," says Daniel Volberg, a Latin American analyst with Morgan Stanley in New York.
The government has been running an import-substitution regime based on a cheap peso. The poverty rate, above 50% after the peso collapsed, is now below its pre-crisis level.
Average real wages have doubled and agricultural productivity has tripled.
However, many analysts believe the Argentine economy is overheating. Survey organisation Consensus Economics points to the huge discrepancy between the official inflation rate of under 10% and the estimated "true" rate of 23%.
That double-digit inflation and a slowing global economy have taken their toll. After a decade of steady surpluses, the pendulum swung from a fiscal surplus of 1.5% of GDP in 2008 to a deficit of 1.7% of GDP last year.
"The Kirchners inherited a country that was on its knees," says Esteban Fernandez Medrano, a financial consultant in Buenos Aires.
"It made sense then to have Keynesian policies that favoured fiscal spending and lax monetary expansion over price stability. The problem now is that the government doesn't seem to appreciate the policies are no longer appropriate."
The fiscal deficit is expected to widen this year as growth slows in Brazil, Argentina's vital trading partner, and the government is forced to buy costly fuel from abroad.
"The Kirchneristas believe the government can manage industry better than private companies," says Mr Volberg.
"Their policies are really driven by hubris. We've seen from their other experiences with nationalisation that perhaps this isn't the case."