Benetton founder hands reins to son after 47 years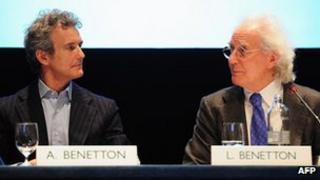 Forty-seven years after founding the Italian fashion house in his own name, Luciano Benetton has handed over the reins to his son Alessandro.
The new boss will oversee the firm's de-listing from the stock market as the family regains full control.
Benetton has lost out in recent years to competitors such as H&M and Zara, but remains well-known for its controversial advertising campaigns.
Last year, it had to pull an advert showing the Pope kissing a senior imam.
'Determined attack'
"Alessandro Benetton will guide the evolution of the company in a scenario of changing markets, complicated by the credit crisis... to move swiftly and decisively towards growth and improved profitability," the company said.
The new boss said there were plenty of opportunities for the company to re-establish itself as a major name in fashion retailing.
"Since Benetton Group has always seen things in colour, allow me to say that it's not all black," he said.
"There are expanding markets that we are ready to attack with determination.
"Leaving the stock market and investing in ourselves and the future of the group is a clear demonstration of our commitment, determination and intention to move beyond this complex phase."
Sales and profits at Benetton slipped as the company lost ground to newer rivals on the High Street, many of which have exploited internet retailing with greater success.
"Over the course of the last 10-15 years, Benetton has not had the capacity to innovate which distinguished it in the past... while the world of fashion underwent great change with the arrival of H&M and Zara," said Giuliano Noci, professor of economy at Milan's Polytechnic University.
Despite the tough times, Benetton has more than 6,500 stores across 120 countries with a turnover of more than 2bn euros ($2.6bn; £1.6bn).