'Mortgage prisoners' are locked in to home loans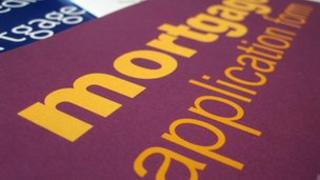 Hundreds of thousands of homeowners are now being described as "mortgage prisoners".
However, unlike most prisoners, they may not know they are locked up.
Only when they start to consider moving home or reviewing their finances will their internment become evident.
In essence, the change in the mortgage market and the change in lenders' attitude to making new loans means these people find it hard to afford to stay in their current home.
But also, they cannot afford, or qualify, to move to a suitable home in an area they want to live in.
Thus, they are "mortgage prisoners".
And if that is not bad enough, their lender will now write to them suggesting that they must consider switching from their interest-only or self-certified mortgage to a traditional repayment mortgage.
How it happens
Here is a fictional but typical example:
A shop owner moved home in 2006, after being offered a mortgage without needing third-party corroboration of their income.
The economy looked buoyant, so the householder felt he would earn £80,000 in 2006 and borrowed five times that amount - £400,000 - on a £500,000 property.
The interest tracked base rate at 1% over bank base rate for five years, after which the rate would revert to the lender's standard variable rate (SVR).
The lender was happy to lend the money on an "interest-only" basis, where the repayment of the loan would come from future profits in the business, or from an inheritance, or from the sale of the property itself.
With the Bank rate at 5%, the interest stood at 6%, so the householder had to pay £2,000 a month.
In 2007, the Bank rate increased to 5.75%, so repayments increased by a further £250 a month.
Changed circumstances
It is now 2012, the High Street is suffering, and the shop owner's current income is only £50,000. The property might be worth only £570,000.
From April 2008 until March 2009, his mortgage costs dropped from £2,000 pm to £500 a month as the Bank rate fell to a record low.
All appeared well until the end of the five-year Bank rate tracking product in November 2011.
Now, payments have gone from 1.5% (£500 a month) to the current SVR of 4.25% (£1,416 pm).
Traditionally over the last 25 years or so the answer to this issue of increasing costs would be have been to remortgage to another lender.
However in the current environment things are different, with lenders being much more conservative.
The shop owner would find it difficult to find a new loan on an interest-only basis.
The loan is now at 70% of the value of the home, so almost every lender would require him to take a repayment loan.
Often that will only last to age 65, despite the fact most of us will now have to work to 70 or beyond.
Additionally, all loans are now expected to be fully underwritten, so if his income is £50,000, he will not be getting a new loan of £400,000.
That would be eight times his current income and so not "affordable" - even though he may have been paying the mortgage in full every month.
The other issue is that margins on mortgage lending have increased.
So even if he had the correct income, and could afford the repayment mortgage costs, the lowest long-term Bank rate trackers are closer to 3% above the Bank rate today, not the 1% once enjoyed.
Move instead?
Now you might read this and say: "They should move to a smaller home, then."
This is perfectly logical, but let us see what would happen.
After selling for £570,000 and paying an agent they might have £160,000 to put down.
A new lender using "affordability" tests and computer profiling, rather than a simple multiple of income, may only offer a new loan of £150,000.
That would mean after paying stamp duty they could move to a £310,000 home.
If they have a family, that might be impractical, and - given that they run a retail business - they may not be able to move too far, or the travel costs and opening times would damage their income again.
What to do
If you recognise a version of your own situation and you need a solution then the first step is to talk to your partner, if you are a joint borrower, and then approach your lender to see if they can offer any form of assistance.
For instance converting your loan on to a "new business" rate so that you can escape a higher SVR. In our experience, you may well get a more sympathetic hearing from a building society than from a bank, as you are a member of the society rather than simply a borrower.
It may well be that you can manage the current costs but you are concerned about interest rate rises. See if your lender will offer you a fixed rate, as this will protect you from trouble and protect the lender from the potential consequences of you being a future bad borrower.
Equally it might be worth considering asking for a further advance to pay off more expensive short-term lending, such as car loans, home improvement loans and credit card balances over a longer-term and on lower rates.
This does require you to have good levels of equity in your property.
The opinions expressed are those of the author and are not held by the BBC unless specifically stated. The material is for general information only and does not constitute investment, tax, legal or other form of advice. You should not rely on this information to make (or refrain from making) any decisions. Links to external sites are for information only and do not constitute endorsement. Always obtain independent, professional advice for your own particular situation.