Half of over-50s 'will have to work beyond state pension age'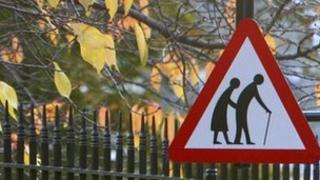 Nearly half of people aged over 50 will have to work and save for 11 years beyond state pension age to keep their standard of living, a report has said.
The Pensions Policy Institute said those who were not able to carry on working would be at a big disadvantage.
It suggested pensioners would need at least £211 a week, or £303 for a couple, for a minimal acceptable standard of living at pension age.
It found that 85% of over-50s in work had enough pension to reach that level.
This came from their potential state and private pension provision, the research group said.
For many it will mean a sharp worsening in their lifestyles, partly because private pensions have not lived up to what might have been expected.
To maintain their current standard of living, on around two-thirds of the income they were used to, 5% would have to work and save for another six years after pension age, the research suggested.
Some 45% would have to carry on in jobs another 11 years, taking them to 77 years of age.
The Pensions Policy Institute points out that those who are unwell or have to care for relatives are unlikely to be able to work on and may have to make do on much lower incomes.
"This demonstrates that many people need to start saving more today, if they want to avoid having to work much longer than they planned and want to have an adequate retirement income in the future," said Niki Cleal, director of the Institute.
Joanne Segars, chief executive of the National Association of Pension Funds (NAPF), said: "Many people in their 50s will be stunned by the prospect of working for another decade after they start getting their state pension. It is a huge ask.
"Those who are prepared to live on less in their retirement may still find they do not have enough savings, so will have to work longer."
A spokeswoman for the Department for Work and Pensions said: "Life expectancy is increasing dramatically, so we have raised the state pension age to make sure the state pension remains sustainable for the future.
"It is important that people have the opportunity to work longer if they want to, which is why we have removed the default retirement age."