Rupert Murdoch under oath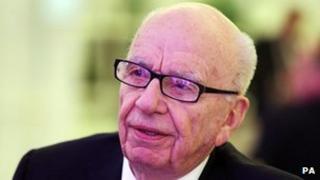 The interrogation of Rupert Murdoch at the Leveson Inquiry, for more than a day, is a historic event.
Never has the 81-year-old, still regarded as among the most powerful media moguls in the world, been questioned so extensively, in public and under oath.
If yesterday's session with his son, James Murdoch, is anything to go by, there will be at least three broad areas of examination.
He'll be asked about his long and deep relationship with politicians - and whether he sought and bought commercial advantage by offering the support of his newspapers, especially the Sun, to the Tories and to Labour.
What he ends up saying will be awaited with some trepidation by Tony Blair, Gordon Brown and David Cameron.
Second, it would be odd if he was not asked whether he feels personally responsible for creating a culture at his British newspapers, especially the News of the World and the Sun, at which malpractices were allegedly rife.
His relationship with the former News Corporation executive in charge of the newspapers in many of the latter years, Les Hinton, is bound to be put under the spotlight.
Finally - and to repeat the big question put to his son, James Murdoch - because details of phone hacking and alleged bribing by his British journalists at News International didn't emerge until years after this had happened, was there a giant cover-up or a catastrophic governance failure at his organisation?
James Murdoch, when asked by Robert Jay QC for the inquiry, said there was neither cover-up or governance failure. But it was not very clear what the third explanation might be.