Ericsson profits up despite weak network spending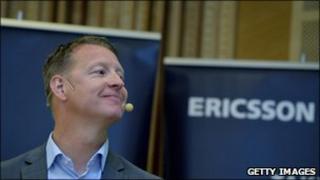 Ericsson has reported a rise in profits in the latest quarter, despite weak demand for new network capacity.
The Swedish telecoms network builder doubled its net income to 8.8bn krona (£0.8bn, $1.3bn) in the first three months of 2012, from 4.1bn a year ago.
However, the sales at its networks division fell 18% over the same period.
The firm said that weak demand for new capacity, especially in the US and Europe, was offset by greater demand for network modernisation.
"Sales of high-performance mobile broadband developed well in North America, Japan and Korea, while other regions such as Europe including Russia, parts of Middle East and India were weaker," said chief executive Hans Vestberg.
The firm said it was continuing to see a steady transition from the old 3G technology of CDMA towards the newer, faster LTE.
Ericsson's share price jumped about 3% at the start of trading in Stockholm on Wednesday morning following the release of the results.