Viewpoint: Ozawa verdict shines light on "Shadow Shogun"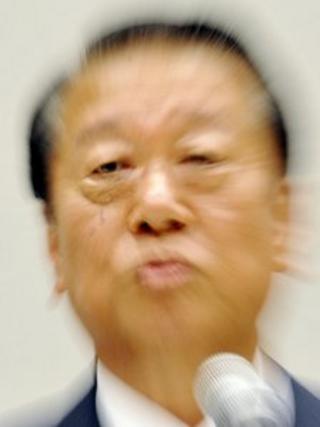 "Shadow Shogun", "Strongman", "Prince of Darkness", and "Destroyer".
Ichiro Ozawa, a former leader of the governing Democratic Party of Japan (DPJ), has been called these things and others. To this list of nicknames one might add "a thorn in the side".
Mr Ozawa is certainly acting as a source of distraction and obstruction to the governing party's efforts in running the country.
One example is his consistent opposition to Prime Minister Yoshihiko Noda's key proposal to increase the rate of consumption tax, saying that now is not the time to raise it, when the economy is as weak as it is.
And now that he has been found not guilty in a long-running political funding scandal it is unlikely that he will sit quietly on the sidelines.
Factional politics
Japan is a parliamentary democracy based on the principles of party politics, but its political parties are much less driven by ideology and more by the personality, funding power, views on policy and "electability" of their leaders than is the case in Western democracies.
This contributes to the prevalence of factions within parties where their leaders enjoy significant amounts of influence over their members in terms of policy choice and voting behaviour, sometimes in conflict with party executive directives.
Ichiro Ozawa knows all about faction politics, having been at the game for a long time.
Having first been elected to the Diet when he was 27, he was appointed secretary general of the Liberal Democratic Party (LDP) in 1989 at the age of 47.
The LDP, which held power for much of the post-World War II period from 1955 to 2009, was and remains the shrine of modern factional politics.
The DPJ, which deposed the LDP as the governing party, was formed out of a collection of small political parties whose one unifying force was opposition to the LDP; many of their founding members were disaffected LDP politicians.
Despite its claim to the contrary, it seems that within DPJ being loyal to their faction ("group" in DPJ parlance) leader rather than to the party is in the blood of many, particularly ex-LDP, politicians.
Top job contender
Mr Ozawa leads the largest intra-DPJ group, despite having had his party membership suspended as a result of his indictment for funding irregularities.
Mr Ozawa's power and influence were allegedly rooted in the fact that he had the political skill and nous, ability to fill electioneering war chests with donations from donors of all shades, and his popularity with his electorate who were grateful for his ability to bring public funding to projects in their constituencies.
Add to this his seemingly gruff manner and reputation as one who would use strong-arm tactics to remove cabinet ministers and party executives who had failed to toe the party (or his) line, and you had a powerful mixture of attributes that would have made Ichiro Ozawa a leading contender for the top job.
Indeed, that seemed to be the case until a few things started to go awry for him.
First of all, his health has for sometime been his Achilles' heel. At crucial moments in his career Mr Ozawa has had to take medical leave, for heart and other problems.
Secondly, the recent political funding scandal has seriously dented his electability; some might say that his political career has been ruined.
Whereas 20 years ago he might have been able to shrug off suspicions of wrongdoing, voters' views on politicians' misdemeanour has become tougher since then.
Even though he has been acquitted, any ambition that Mr Ozawa might have harboured for a bigger role in Japanese politics has been severely dented.
Which has led to a decline in his grip on the unity of his in-party group.
When the cabinet formally adopted the relevant consumption tax bill to be debated in the Diet a few weeks ago, scores of his group members resigned their government and party posts, though significantly not all of his followers did.
Seeking revenge?
It is said that even if Mr Ozawa were to form a breakaway party in protest after the consumption tax bill is passed (if it ever is), a significant number of the Ozawa supporters will turn their backs on him.
However, this will not stop Mr Ozawa from continuing to run a campaign of spoiling tactics against the government, whether from within or outside the DPJ.
For a start, he will have revenge on his mind for the funding case that was brought against him, which he thinks was politically motivated.
He may also try and act as King Maker again, finding a suitably qualified politician who would do his bidding so as to enable him to recapture his influence. Such a move would involve disruptive manoeuvring against the government.
A future prime minister in waiting, Ichiro Ozawa is no longer. A vexing thorn in the side of the party in power, he will continue to be.
Crimson Phoenix is an M&A advisory firm based in Tokyo. Mr Nakajima has worked in investment banking and corporate finance. He also writes for monthly magazine the Acumen. The opinions expressed are those of the author and are not held by the BBC unless specifically stated. The material is for general information only and does not constitute investment, tax, legal or other form of advice. You should not rely on this information to make (or refrain from making) any decisions. Links to external sites are for information only and do not constitute endorsement. Always obtain independent, professional advice for your own particular situation.