Insurance costs dip for drivers, says AA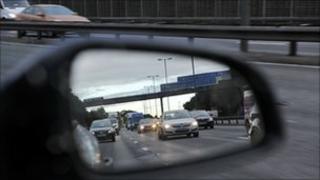 Motor insurance costs fell in the first three months of the year after a period of rising premiums, the AA has said.
The cost of comprehensive car insurance dropped by 1.1% to £1,132 at the end of March, based on the cheapest premiums from a range of insurers.
Although this was 7.7% higher than a year ago, this annual increase has slowed.
Drivers aged between 17 and 22 saw premiums fall by nearly 1% over the first quarter of the year.
This group has seen the cost of insuring their vehicles increase sharply in recent years.
However, the AA said that falling costs for drivers might not last, especially when gender discrimination rule changes came into force at the end of the year.
"I cannot see this drop in premiums being sustainable for long," said Simon Douglas, director of AA Insurance.
"My fear is that if prices do continue to drop, we will see a repeat of 2009, when industry losses led to premiums suddenly rocketing up following a long period of little movement."
The average of all motor insurance quotes changed relatively little in the first three months of the year, the AA said.
Scott Kelly, head of car insurance at price comparison site Gocompare.com, said: "There is currently a huge difference in premiums with insurers taking different positions on different types of drivers."