Hungary concession opens way to EU bailout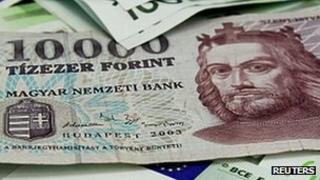 Hungary has agreed to change a law criticised for undermining the independence of the country's central bank, the European Commission has said.
The concession means negotiations over a 15 to 20bn-euro (£12-16bn; $20-26bn) bailout package can now reopen.
The Hungarian government faces serious problems in its banks, as well as a rising cost of borrowing.
But Prime Minister Viktor Orban has been criticised for undermining democratic protections in his country.
As well as the central bank, Mr Orban has been accused of undermining the independence of the Hungarian judiciary and press, as well as manipulating electoral laws in his favour.
The prime minister's centre-right Fidesz party won a landslide election in 2010 that gave him a two-thirds majority in parliament - enough to make unilateral changes to the republic's constitution.
The Commission, which has expressed concerns about the "quality of democracy" in Hungary, said it was still planning to launch legal challenges in the European Court of Justice against two new laws.
One of the laws lowers the obligatory retirement age for judicial officials from 70 to 62, which the Commission said would enable the government to replace 10% of the country's judges and 25% of its notaries.
But despite these outstanding concerns, the Commission said that Budapest had made enough concessions that Brussels was now willing to discuss a financial aid package.
"These elements will certainly allow more confidence in the legal environment in Hungary," said Commission spokesman Olivier Bailly.
Mr Orban was forced to request aid from the EU and the International Monetary Fund in November.
The country's banks lent heavily to mortgage borrowers in Swiss francs during the last decade, because interest rates in that currency were much lower than in Hungary's own forint.
But since the 2008 financial crisis hit, the Swiss franc has risen 75% in value against the forint, making many of these loans unrepayable.
The confidence of financial markets in the value of the forint and the Hungarian government's finances has also been hurt by Mr Orban's authoritarian style, as well as his move to weaken the central bank's authority and his unwillingness to help the banks out.
Negotiations over the bailout had been deadlocked for five months, with Mr Orban accusing the EU of treating his country like a colony.
As expectations of a breakthrough have risen in the past two days, the forint has strengthened 4% against the euro.
The Hungarian government's cost of borrowing from financial markets for 10 years has also fallen sharply, from a 9% interest rate to 8.1%.