US durable goods orders see sharp fall in March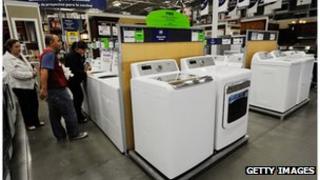 Orders for durable goods such as cars, machinery and fridges in the US fell 4.2% in March, the sharpest drop in three years, official data suggests.
Much of the fall was due to an almost 50% drop in civil aircraft orders - a volatile sector dominated by Boeing.
Capital goods orders excluding aircraft and defence goods - which are seen as a better measure of long-term business investment spending - fell 0.8%.
Economists said that the data pointed to weakening US growth in the spring.
"This adds to the evidence that momentum in the economy sort of fell flat in March," said Ellen Zentner, senior US economist at Japanese investment bank Nomura.
"What this tells us for business investment is that... the wind has been taken out of the sails going into the second quarter [of 2012]."
Meanwhile, February's figure was revised down by the US Commerce Department to show an increase of 1.9%, instead of the 2.4% originally announced.
As of March, durable goods orders still remained 17% below the peak they registered in December 2007.