UK consumer confidence 'at nine-month high'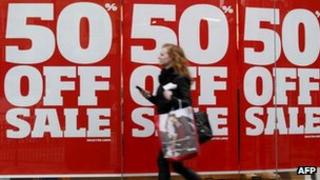 UK consumer confidence hit a nine-month high in March, according to the Nationwide Building Society.
Its confidence index rose nine points from February to 53. But it was still well below the long-term average of 76.
Twenty-six per cent of respondents said now would be a good time to make major purchases, which was the highest level for 10 months.
The survey is in contrast to official figures on Wednesday, which showed the UK returning to recession in March.
"Much of the survey‐based data has painted a more upbeat picture of the UK economy than official data in recent months ‐ March's Consumer Confidence Index continues that trend," said Nationwide chief economist Robert Gardner.
"The consumer confidence index has been fairly volatile from month to month, but since reaching an all time low in September last year the trend has generally been towards increased confidence."
There have been questions asked about why the official figures disagree strongly with survey data.
But even though the Nationwide figures are going in a different direction to the official figures on the economy, they are still historically at a very low level.