S Korean growth picks up pace despite fragile outlook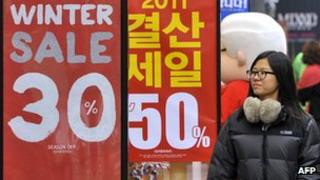 South Korea's economy has picked up speed in the first quarter boosted by strong industrial output and government spending.
But analysts warned that the outlook remained uncertain amid economic problems in Europe and weakening Chinese expansion.
Growth was 0.9% in three months to the end of March, up from 0.3% in the previous quarter.
However, the 2.8% annual rate was the weakest in two-and-a-half years.
"The quarterly figures at face value may appear healthy, but the picture becomes a little bleaker once it's broken down by monthly performance, with growth seen steadily slowing into February and March after a strong January," said Jeon Min-Kyoo of Korea Investment and Securities.
"It's too early to judge whether the economy is on a path of steady recovery."
Local or foreign?
Korean is Asia's fourth-largest economy and relies heavily on exports for growth.
The latest figures from the central bank showed that there was an improvement in foreign sales, with exports up 3.4% in the first quarter. In the previous three months they had fallen 2.7%.
The sector has been hurt in recent times due to a slowdown in key markets such as the US and eurozone, and analysts said that until the economic conditions in those regions improve further, South Korea's growth will continue to remain fragile.
"Given that the global economy has not recovered fully, it would be too early to say the Korean economy has hit the bottom," Suktae Oh of Standard Chartered.
Policymakers, meanwhile, have found it tough to boost domestic demand enough to offset the weaker export demand.
Private consumption grew 1% in the first quarter from the previous three month, while the construction sector continued to decline, contracting by 1%.
"With the construction sector still in a slump, the domestic economy, particularly private consumption, has a long way to go," said Mr Oh of Standard Chartered.