Las Vegas Sands gets gaming boost as profits double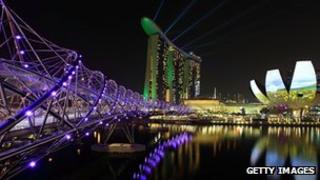 Casino operator Las Vegas Sands has said its profits in the first quarter doubled, boosted by a surge in gaming revenues in Singapore and the US.
Net profit was $498.9m (£309m) in the three months to the end of March, up from $228.2m last year.
The company has benefited from its plan to expand in Asia as economic growth has significantly increased consumer spending power.
At the same time, the US market is emerging from a slowdown.
Las Vegas Sands said that gaming revenues at its Marina Bay Sands resort in Singapore rose 51% during the first three months of this year. In Las Vegas they jumped by 91%.
The firm's four casinos in Macau, the world's biggest gambling market and the only Chinese territory where gambling is allowed, also reported a jump in gaming revenues.
Las Vegas Sands said the strong earnings were driven by its focus on integrated resorts, which offer a combination of casinos, convention halls, hotels, theme parks and high-end shopping.
The aim is that they attract a broader range of patrons, increasing the company's potential pool of clients.
At the same time, analysts said that Asia has been seeing an increase in regional tourism, with travellers flying into resorts such as Singapore and Macau for short breaks as well as longer-term holidays.
Singapore, for example, estimates that tourist arrivals to the city state will grow by between 2.3% and 9.8% in 2012, after a 13% rise in 2011.