AstraZeneca chief executive David Brennan to retire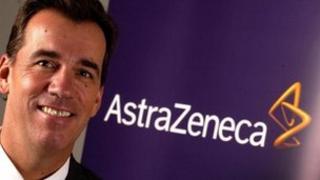 Drugs maker AstraZeneca has said that its chief executive David Brennan is to retire on 1 June, as first-quarter profits dropped 38% at the firm.
Shareholders, concerned about the company's performance, have been pressing for change at the top.
Pre-tax profit for the January to March period fell to $2.05bn (£1.27bn), with the firm citing "loss of exclusivity" on patents for several key drugs.
Mr Brennan has come under fire for not acting sooner to address this issue.
Chief financial officer Simon Lowth will take over on an interim basis.
Chairman Louis Schweitzer will also leave the company at the beginning of June, retiring three months earlier than planned.
Mr Schweitzer's early departure is so that new chairman Leif Johansson, who had already been named as his replacement, can begin the search for a permanent chief executive.
Lower target
In its first-quarter results, AstraZeneca said revenues fell 11% on a year earlier to $7.35bn.
It said loss of exclusivity for several products, chiefly antipsychotic drug Seroquel, heartburn pill Nexium and breast cancer drug Arimidex accounted for 8% of the decline in revenue.
The group also incurred restructuring costs of $702m, nearly five times the previous year's total, and lowered its target for full-year earnings per share.
Mr Brennan, who took the helm in 2006, is one of the longest serving chief executives in the pharmaceutical sector.
"After more than six years as chief executive officer of this great company I have decided that now is the right time to step down and allow a new leader to take the reins," he said in a statement.
"I am confident that AstraZeneca will continue to have a positive impact on the lives of patients around the world and by doing so will deliver real value to our shareholders."
Shares in AstraZeneca were down 5.3% in morning trading.