Volkswagen, Chrysler and Fiat see profits jump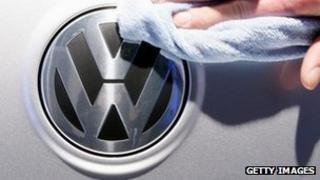 Car giants Volkswagen, Chrysler and Fiat have all reported strong rises in first-quarter profits as the global car market recovers.
Volkswagen's first quarter net profit nearly doubled to 3.2bn euros ($4.2bn; £2.6bn) compared with a year ago.
Chrysler - now controlled by Italy's Fiat - announced net profits of $473m , its best quarterly profit in 13 years.
The "significant contribution" from Chrysler pushed overall net profits at Fiat group up 10-fold to 379m euros.
The group said the strong performance from Chrysler had offset lower sales of Fiat in Europe.
Revenues more than doubled on a year ago to 20.2bn euros. But excluding Chrysler, they fell 5.7% to 8.7bn euros.
Record delivery target
Germany's Volkswagen - whose brands include Audi, Skoda, Seat and Bentley - said it was outperforming the market in all regions and deliveries to customers were up by 11.1% on the year to 2.2 million vehicles.
VW's models were particularly in demand in Russia where sales rose 77% to 66,000 vehicles.
The carmaker said it still aimed to make record deliveries beyond last year's record of 8.3 million vehicles.
VW shares closed up 7.8% in Frankfurt.
Growing market share
Chrysler reported a 39% rise in first quarter sales. It marks another stage in its recovery from the US giant's low point in 2009 when it had to be saved by a government task-force.
The profit figure was four times the amount it made for the first quarter a year ago and was the best result since 1998.
Chrysler's market share is growing, rising to 11.5% in the US last year from 9.4% the year before, and company said it expected to make a total of $1.5bn for 2012 as a whole.
Fiat's boss intends to merge the two companies by 2014.
Fiat increased its stake in Chrysler to 58.5% earlier this year. The rest of the business is owned by the retirees' healthcare trust affiliated with the United Auto Workers union, which represents the company's US hourly-paid workers.