Amazon profits beat Wall Street forecasts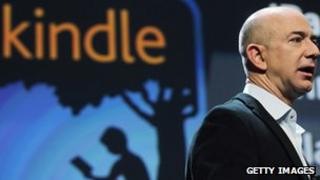 Amazon has posted better-than-expected profits after the world's largest online retailer cut costs and boosted sales of its Kindle digital range.
Amazon shares rose almost 15% in after-hours trading in New York after it said quarterly net income was $130m (£80m).
The firm has been launching new products such as the Kindle Fire, a tablet that competes with Apple's iPad.
There had been nervousness among some investors that new product launches would be a drain on profits.
According to Stifel Nicolaus analyst Jordan Rohan, Amazon, which has been spending heavily on expansion, is starting to get a grip on costs.
The earnings have "something for everyone; growth and margins to satisfy investors", he added.
Amazon said that revenues rose 34% to $13.18bn during the first three months of 2012.
In a conference call, Amazon executives said they were pleased with growth in sales of the digital content that the Kindle and Kindle Fire are designed to accelerate.