YPF vows to deliver gas as Repsol cancels deliveries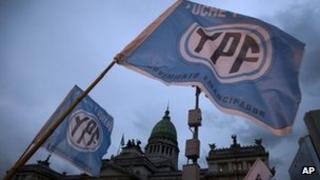 Argentine oil firm YPF has vowed to keep providing gas supplies as the dispute over its forced nationalisation continues.
The firm said it will keep delivering liquefied natural gas (LNG) to customers, after Repsol decided to cancel deliveries.
YPF's controlling stake, owned by Spain's Repsol, was effectively seized by President Cristina Fernandez's government.
Spain has threatened to retaliate.
"There will be 5 million additional cubic metres per day" of LNG because of higher production and imports from Bolivia, YPF said.
YPF produces about a third of Argentina's oil and a quarter of its gas.
Trade war brewing?
Last week, Argentina's Senate approved the controversial decision to nationalise YPF, a move that has been condemned by the European Union.
The EU's trade commissioner, Karel De Gucht, has said the EU would seek a settlement at the World Trade Organization, if necessary.
Argentina has taken 51% of YPF, wiping out Repsol's 57.4% majority stake.
Repsol executive chairman Antonio Brufau has said Argentina's move "will not remain unpunished" and it will seek $10.5bn (£6.5bn) in compensation.
The authorities in Argentina have accused YPF of not investing enough to increase output from its oil fields. Repsol replies that it invested $20bn in the country.
The company has been stripped of a number of leases, including in some of the biggest oil fields in the country.
President Fernandez's move against Repsol is popular among Argentines.
In November last year, YPF, which was privatised in 1993, announced a major find of 1 billion barrels of shale oil.
Argentina has some of the world's largest reserves of shale oil and gas.