Budweiser brewer Inbev profits surge on stronger sales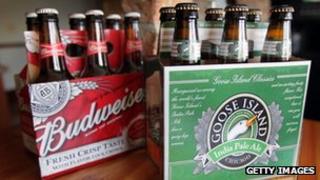 The world's biggest brewer, Inbev has reported first quarter profits of $1.7bn, almost double the profit made in the same quarter of 2011.
The brewer said that as well as stronger beer sales, it was helped by lower financing costs and lower taxes.
Sales of beer in the US rose for the first time in three years in the first quarter.
The company said that improving economic conditions in the US have helped boost beer sales there.
Inbev owns brands such as Stella Artois, Becks, Brahma and Leffe.
Inbev is also confident that sales in its second biggest market, Brazil, will grow thanks to a rise in the minimum wage.
"In Brazil, the 7.5% real increase in the minimum wage should help to accelerate industry beer volumes," the company said its earnings release .
"We expect our volumes in Brazil to resume growth in FY12 (the 2012 financial year), with a better balance between volume and price than the previous year."