US alcohol retailers find law changes hard to swallow
By Jane O'Brien
BBC News, Washington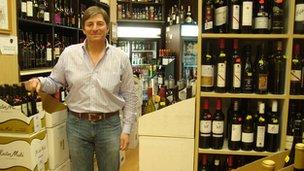 The US consumes more bottles of wine than any other nation in the world. But almost 80 years after the end of Prohibition, buying a drink can still be tricky.
It's illegal, for instance, to buy vodka in Delaware to take to a party in Pennsylvania. And retailers in Maryland are not allowed to ship alcohol to anybody living in another state.
That's because of the 4,000 or so different laws that govern the alcohol industry and give individual states unprecedented rights to regulate sales and consumption within their borders.
The protections have often favoured small businesses, but many now fear they're under threat from cross-border wine sales on the internet, and the end of state monopolies that could lead to deregulation.
"The worst-case scenario is that you have a reduction of competition, removal of small businesses from the marketplace or potentially not having small businesses in the marketplace at all," says John Bodnovich, executive director of the American Beverage Licensees, which represents 20,000 small retailers across 34 states.
He's particularly concerned about new laws in the state of Washington which take effect in June. State controlled off-licences are closing, and grocery stores and supermarkets will be allowed to sell what the Americans call "hard liquor", or sprits, instead.
But the biggest threat to small businesses comes from a measure which says "liquor stores" must operate from stores no smaller than 10,000 sq feet.
"What's happened in Washington state is scary," says Chuck Ferrar, owner of Bay Ridge Wine and Spirits in Annapolis, Maryland.
"[The alcohol industry] is the last bastion of small businesses, 50% of our businesses are owned by Asian minorities because it's one of the few remaining industries where somebody can start a small business and see it grow and thrive.
"But Washington will drive the small business under. And I think it will eventually happen here, that alcohol will be sold in groceries and supermarkets."
Another big change affecting the industry is the internet. In 2005 the Supreme Court ruled that wineries could ship direct to their customers. That left many states scrambling to change their laws.
"It's coming because the consumer wants it," says Joe Conti, chief executive of the Pennsylvania Liquor Control Board. "Consumers will be able to buy from a winery in California and have it sent to their home in Pennsylvania - that will be happening within months. That's a good thing for the consumer and we embrace that type of competition."
But the Supreme Court ruling did not include small retailers, and the Wine and Spirits Wholesalers of America (WSWA) remains opposed to direct shipping.
"It's a black market because you don't have the regulatory power to find out who is ordering from where," says WSWA president Craig Wolf.
"Once you open the door to direct shipping and you don't go through a licensed wholesaler, you don't know whether taxes are being paid, whether minors are getting alcohol, and you don't know if it's an illegal source," he says.
But Jon Genderson, managing director of Schneider's of Capitol Hill, a wine and liquor store in Washington DC, believes wholesalers are opposed because they're worried about increased competition in their tier of the market.
"The wholesalers are worried about these things, but it's change that benefits the consumer and that's why I think it's going to happen," he says.
"It's the natural evolution of the business. It just makes sense and when things make sense and the current laws don't make sense I think that eventually they'll be changed. I think we're smart enough to make those changes," he says.
He says the internet still represents a small percentage of sales, but his business is gearing up for the anticipated change.
"We're in the process of revamping our website for a third time, modernising and making it more interactive. I'm hoping it will be easier and easier, and that there will be more and more states we'll be allowed to ship to," he says.
Moves to deregulate alcohol in the US go to the heart of debates about its role in society and the concerns that led to prohibition. Mr Wolf says many Americans have grandparents who remember what the country was like before controls were established.
"There is a fear that if you tinker and mess with it, you don't know what you're going to end up with - and it could be very bad," he says.
"We don't want to cast aspersions on England - but if you look very carefully at what happened, there was deregulation. There are now 24/7 sales there, there's vertical integration there with big box stores controlling the retail operation - or big retailers controlling the suppliers.
"Prices of alcohol are below sale cost all over England, sometimes less than a bottle of water. And there's terrible binge drinking. We look at that and say what's different about our system?
"Our's is a much more regulated system. There are many more checks and balances, not only between market players but also from government on the market players."