Toyota car sales rise in the US as recovery continues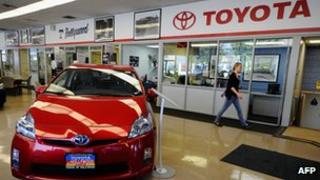 Toyota's sales in the US rose 11.6% in April from a year earlier as the firm continues to regain its market share in the world's biggest economy, according to research firm Autodata Corp.
The carmaker had seen its sales in the US dip after production was hit by last year's quake and tsunami in Japan.
Fears of a slowdown in the US economy have also hurt car sales generally.
However, its production has returned to normal and there have also been signs of a pick up in the US economy.
Autodata said it expects its sales to increase further in the coming months.
"We're watching consumer confidence and consumer sentiment very closely," said Bob Carter, group vice president on Toyota.
"As both of those indices improve, we're starting to see more showroom traffic."
Fast recovery
Toyota's fortunes in the US have been hit by a a number of factors in recent times.
Last year car production was badly disrupted, firstly by Japan's earthquake and nuclear disaster and then by flooding in Thailand.
Toyota's reputation was also dented after a spate of safety issues saw it recall almost 12 million vehicles over the past two-and-a-half years.
Dwindling sales saw the firm lose its billing at the world's biggest carmaker to General Motors last year.
Analysts said that Toyota's recovery from these setbacks had been faster than they had expected.
"We knew they were going to be able to gain back part of their share this year, but they're doing it quicker than we thought," said Jesse Toprak of TrueCar.
"The new products are doing well."