UBS profits fall 54% in first quarter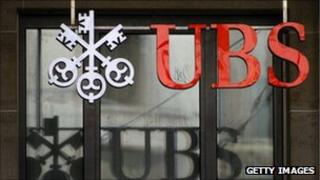 Profits at Swiss banking giant UBS have more than halved in its latest quarterly results.
Net income for the first three months of 2012 fell to 827m Swiss francs ($909m; £560m) from 1.81bn francs a year earlier, the bank said .
It blamed losses at its investment bank and accounting charges on its own debt.
The bank said it was cautious about coming months because of worries about the eurozone debt crisis as well as the US deficit.
Global uncertainty was also a cause for concern, the bank said.
"Failure to make progress on these key issues would make further improvements in prevailing market conditions unlikely," the bank said.
In November, UBS announced it would cut back its troubled London-based investment bank business and move its focus to private banking.
Wealth management
But UBS, which derives much of its money from managing the assets of the world's richest people, said that it expected to attract more clients from emerging markets.
"We believe our wealth management businesses as a whole will continue to attract net new money," UBS said.
Its wealth management in the Americas, including Latin America, reported a record quarterly pre-tax profit of $209m.
UBS has struggled since the financial crisis, when it had to be rescued by the Swiss government.
The bank took heavy losses during the years from 2007 to 2009, reporting a total loss of 39bn Swiss francs during the period.
Last year, it lost a further 2bn francs thanks to a rogue trader.
The bank was typically reporting quarterly profits of about 3bn Swiss francs in the years leading up to the financial crisis.