House prices fell again in April, Nationwide says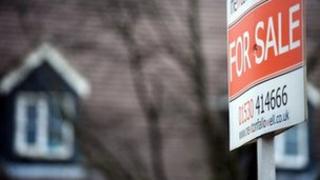 House prices are in gentle decline, new figures from the Nationwide building society suggest.
Its latest monthly survey says prices dropped by 0.2% in April, leaving them 0.9% down on a year ago.
The Nationwide said prices had fallen four times in the past five months to leave the average price at £164,134.
On Wednesday, figures from the Bank of England suggested that the brief rise in mortgage lending at the start of the year had now come to an end.
And on Monday, the Land Registry for England and Wales also said house prices had dropped slightly in March.
It said they fell by 0.6% during the month, which also left them 0.6% down from a year ago.
Robert Gardner, the Nationwide's chief economist, warned that the next few months were unlikely to see a revival of either sales or prices.
"Much of the recent softness in measures of housing market activity and house prices is likely to relate to the expiry of the stamp duty holiday in late March," he said.
"This provided a temporary boost to house prices in early 2012 as buyers brought forward purchases that would otherwise have taken place later in the year.
"This effect should fade in the months ahead, and measures such as the Government's NewBuy scheme should provide some support to buyer demand," he added.
Earlier this week more than a million borrowers started to pay higher rates of interest on their mortgages.
Several lenders - the Halifax, the Co-operative Bank, and the Clydesdale and Yorkshire Banks - have imposed increases in their standard variable rates for existing borrowers.
They have argued that they have to charge more to existing customers, to offset the increasing cost of raising wholesale funds on the financial markets.