Renault-Nissan to take control of Lada-owner Avtovaz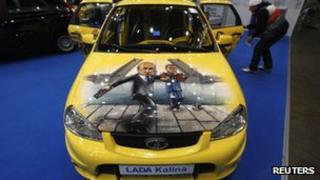 The Renault-Nissan alliance has agreed to raise its stake in Lada-owner Avtovaz to take majority control of Russia's largest carmaker.
The French-Japanese alliance partners hope the deal will result in closer collaboration between the three and bring about economies of scale.
As part of the deal, Renault and Nissan models could be produced alongside Ladas in Togliatti, Russia.
The deal will come into force by 2014.
A memorandum of understanding to that effect has been signed in Paris, four years after Renault first acquired a 25% stake in Avtovaz.
The deal is structured as a joint venture between Renault-Nissan and state corporation Russian Technologies.
Renault-Nissan will own 67.13% of the joint venture, which in turn will own 74.5% of Avtovaz.
Renault will invest $300m (£185m) and Nissan will invest $450m in the joint venture over the next two years.
"Today's memorandum is the latest step in an expanding collaboration that helps modernise the leader of Russia's auto industry," said Carlos Ghosn, chief executive of the Renault-Nissan Alliance.
A new production line was inaugurated last month in the Togliatti plant, backed by a 400m-euro ($525m; £330m) investment.
The three marques aim to produce 1.6 million cars a year there, which would make it one of the biggest assembly plants in the world.
Global empire
Renault and Nissan are tied together by cross-ownership of shares in each other.
The Renault-Nissan Alliance, if considered as a whole, is the world's fourth largest carmaker by volume.
Renault holds a 43.4% stake in Nissan, while Nissan holds 15% of Renault shares.
Mr Ghosn has also initiated a number of co-operation agreements with Daimler, the German industrial group that owns Mercedes and Smart.