Societe Generale quarterly profits fall 20%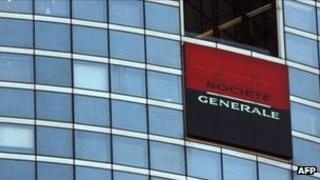 French bank Societe Generale has said that its first quarter profits fell 20% as the eurozone debt crisis continued to hamper results.
Net profit for the first three months of the year fell to 732m euros ($962m; £594m), from 916m euros last year.
SocGen said a "sharp upturn in corporate and investment banking activities" had begun once the last Greek bailout had been finalised.
Shares in the bank have fallen by 60% in the past year.
In the first quarter of the year, the European Central Bank took the unusual step of lending more than 1tn euros of low-interest loans to banks.
Greece also completed the biggest debt restructuring in history, paving the way for a 110bn-euro bailout from the eurozone and IMF.
"The first quarter of the year was marked by reduced turbulence in the financial markets following and due to the implementation of the European Central Bank's long-term refinancing operations and the finalisation of the Greek bailout plan," SocGen said.
"This normalisation led to a sharp upturn in corporate and investment banking activities."
SocGen now has 52.4bn euros in cash, up from 44bn euros last year, due to the operations of central banks.