Lufthansa to cut 3,500 jobs to reduce costs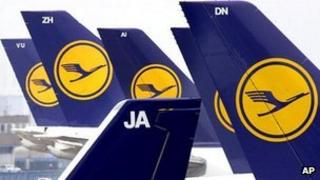 German airline Lufthansa is to cut 3,500 jobs as it seeks to cut its administrative costs by a quarter.
The airline will cut those full-time jobs in administrative departments worldwide over the next few years.
The news came as its loss narrowed to 379m euros ($498m; £308m) in the first quarter, from a loss of 507m euros in same period of 2011.
Lufthansa blamed higher fees and taxes, even as quarterly revenues rose by 5.6% to a record 6.6bn euros.
These included an air traffic tax imposed in Germany and Austria and the costs of carbon emissions trading in Germany.
"Higher taxes, fees and charges put a massive strain on our quarterly result," said Christoph Franz, chairman of Lufthansa AG. "We cannot wait until politicians also recognise the damage that one-sided taxes and charges do to aviation and to Europe's reputation as a place to do business."
Lufthansa said that fuel costs had risen by 304m euros in the past year.
Last month, Lufthansa completed the sale of loss-making UK airline BMI to IAG, the company that owns British Airways and Iberia.