BG Group to sell stake in Brazil's Comgas for $1.8bn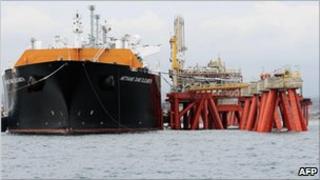 UK gas producer BG Group has announced a deal to sell its stake in Brazil's Comgas to Sao Paulo-based Cosan for $1.8bn (£1.1bn).
BG said it expected to deal to be completed by the end of the year.
The group also reported a surge in first quarter profits, which jumped to $2.2bn from $1.4bn a year earlier. Revenue rose 20% to $5.8bn.
Profits were boosted by higher production and "robust" energy prices.
"BG Group has delivered significantly stronger financial results in the first quarter and with new production coming onstream, further progress on our major projects, and continued exploration success, we remain firmly on track to achieve our long-term objectives," said Sir Frank Chapman, BG Group's chief executive.
He said the company would be selling further assets in order to free up cash.
"We look forward to concluding [the Comgas] deal as part of our plans to release some $5bn of capital in the next two years through strategic divestments."