US scientists who mean business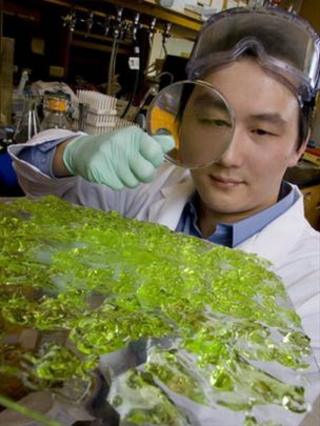 Timothy Lu is an accidental businessman.
Having studied medicine, he initially set out to do scientific research.
But along the way he realised his ideas could better help people if he went beyond academia and entered the world of commerce.
Now Mr Lu splits his time between his job as an assistant professor at the Massachusetts Institute of Technology (MIT) and a revitalised factory building on the edge of Boston.
There he is a director and scientific founder of a company called Sample6 Technologies.
The company has used cutting-edge techniques to engineer viruses that attack bacteria, known as phages, which it uses to rapidly detect dangerous bacterial contamination in farms and food plants.
Academic earnings
Mr Lu has been unusually successful, having raised some $5.5m (£3.4m) so far.
Yet the basic outline of his story is a familiar one at universities across the United States, where many small start-up firms have grown into large companies.
"In the US, it has become the norm and almost the requirement" for academic research to spawn businesses, according to Noubar Afeyan, a senior lecturer of entrepreneurship and innovation at MIT's Sloan School of Management, and managing partner of an early-stage venture capital firm, Flagship Ventures.
For the students, such companies offer opportunities to learn. For entrepreneurs with specialist knowledge, they offer commercial opportunities. For the faculties and the universities, they offer a financial boon.
MIT, which is among the top royalty earners in the country, made about $69m last year on a budget of more than $2bn.
Universities in business
But the spirit of entrepreneurship generates value well beyond the university.
If the firms founded by MIT graduates formed an independent nation, that country would be at least the 17th largest economy in the world, according to a study by the entrepreneur-promoting Kauffman Foundation.
The era of American academic entrepreneurship was given a fillip by the Bayh-Dole Act of 1980 , which allowed universities to patent advances made on their campuses even though the basic research was often funded by US taxpayers.
This meant universities could keep the money they earned from commercialisation, though it also put pressure on them to start producing useful ideas.
"When I first came to MIT 30 years ago, [starting a business] was not at all a popular path," Mr Afeyan says, pointing to how there is tens or hundreds or even thousands more academic entrepreneurs now.
In a 2010 study from Indiana University, Professor David B Audretsch and colleagues found that roughly a quarter of the country's most prominent scientists had started companies.
Since the late 1990s, the area around Boston and Cambridge in Massachusetts has emerged as a hub of biomedical entrepreneurship.
The cross-pollination between MIT and Harvard University's academics, entrepreneurs and big business created a fertile culture, Mr Afeyan says.
Essential ingredients
It sometimes takes a village to spawn a company
Zen Chu, a biomedical engineer and serial entrepreneur, says he was drawn to MIT and Cambridge because it was such a vortex of entrepreneurial success.
Nearly a decade ago, he connected with several MIT professors and launched a company, 3DM, to produce biomaterials that accelerate tissue regeneration and wound healing, replacing animal and human-derived materials with synthetic ones.
The company funded its first clinical trial in Japan and then went public there in 2011.
The essential ingredients for the company's success, Chu says, was the engineering culture of MIT, Boston's medical community, the "ecosystem" of entrepreneurs like himself and the close proximity of all types of venture capital willing to take risks at different stages of the company's development.
"Those are the key elements," he says. "Boston has those elements."
Across the river
Traditionally, most of the Boston area's commercial ideas have come from MIT and, to a lesser extent, from Harvard.
Now, Boston University, a few kilometres away across the Charles River, is trying to commercialise its own innovations and compete with its better-known rivals.
Vinit Nijhawan, managing director of the Office of Technology Development at Boston University, has spent the last two years reversing its "spectacularly unsuccessful" commercialisation track record.
Mr Nijhawan, a venture capitalist himself, quickly realised that if he wanted to compete, his office would have to play an activist role in building businesses from academic insights.
"We're behaving like a seed-stage venture firm," he says.
The Office of Technology Development is offering gap funding to companies that are not yet ready to attract traditional venture capital, as well as a mentoring program for academics and managers.
So far, it has helped support five early stage companies, including Mr Lu's Sample6, and it is ready to help launch a dozen more.
"The scarce resource is not ideas and it's not money," Mr Nijhawan says.
"The scarce resource is that entrepreneurial champion who's going to take an idea and find a way to move it forward."