Thorntons' sales hurt by store closure programme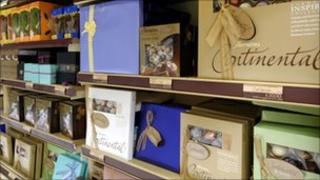 Third-quarter sales at chocolate maker Thorntons have fallen on the impact of its store closure programme and difficult trading environment.
Total sales were down 2.7% to £62.4m in the 16 weeks to 28 April.
The company shut down an additional 11 stores in the period as part of its closure programme.
Jonathan Hart, Thorntons' chief executive, said that despite a good performance at Easter, "the difficult consumer environment continues".
Thorntons plans to close 180 outlets in the next three years, the company said in June last year.
Mr Hart added that the company would continue to focus "on restoring profitability'' and that it was seeing "early signs of progress resulting in an overall satisfactory trading performance".
Excluding store closures, sales were broadly flat. Like-for-like sales at its own stores were down 1.6%.
At Thorntons' franchise stores, sales rose 12.6%, following a "more positive'' restocking strategy.