Linkedin quarterly profits rise sends shares up 10%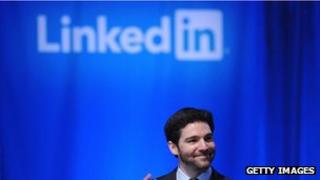 Business-focused social networking website LinkedIn said its quarterly profits more than doubled sending its shares up 10%.
The figures showed first quarter revenue 101% higher than a year ago at $188.5m (£116.5m), with net income also more than doubling from $2.1m to $5m.
Linkedin said it was the seventh quarter in a row of growth above 100%.
The company also said it would buy the content sharing company SlideShare for $118.75m.
Linkedin also said its revenue for the full year would be better than expected with its highest hopes for $900m, up from $860m previously.
The business makes money selling services and subscriptions to people looking for jobs and companies looking to hire.
Its hiring solutions unit saw revenue rise 121%.
That makes more than half of total revenue.
Revenue deriving mainly from display advertising sales was up 73%.
Linkedin was one of the first prominent social networking sites to issue shares to the public, ahead of the much-anticipated Facebook share issue, which was also announced on Thursday.
Linkedin's shares are nearly 70% higher than at the start of the year and are more than double last year's starting price of $45.
The business has more than 161 million members worldwide.