Australia's central bank lowers its growth forecast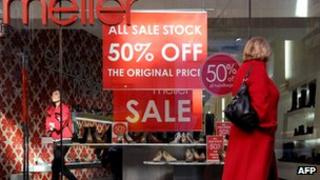 The Reserve Bank of Australia (RBA) has lowered its growth forecast amid a slowdown in the country's non-mining sectors.
The central bank cut its growth forecast for 2012 to 3% from its earlier projection of 3.5%.
The move comes just days after the RBA cut rates to 3.75% in a surprise move to boost growth.
Many analysts said this signalled that the bank was worried global economic problems would worsen domestic issues.
Australia's recent boom has been fuelled by strong exports of its natural resources. However, global demand has weakened in recent months as China and India's growth has slowed, and Europe has been engulfed in a debt crisis.
The RBA said that these problems could still weigh on its latest growth forecast.
"The most significant external risk to this outlook is the possibility that the sovereign debt problems in Europe could intensify and derail the upswing in the global economy," the RBA said in its statement.
"A sharp slowdown in global activity, particularly if it flowed through to east Asia, would have significant implications for commodity prices and demand for Australian exports," it added.
Domestic troubles
The non-mining sectors of Australia's economy have been going through a tough time.
The country's housing market has been hit by falling demand as well as a dip in prices, with sales of new homes at their lowest level in more than a decade in March.
The RBA said that the sector may remain subdued for some time.
"At this stage, the available forward-looking indicators suggest that a recovery in housing construction is unlikely in the near term," the bank said.
At the same time, a rising Australian dollar has also hurt the competitiveness of Australia's exports weighing on its manufacturing sector.
The Australian dollar has risen almost 7% against the US dollar since August last year, making Australian goods more expensive to foreign buyers.
Home and away
Analysts said that a decline in domestic demand has only made conditions tougher for the manufacturers.
A strong currency has also hurt the local tourism industry making holidays in Australia more expensive for foreigners.
To make matters worse, the slow down in manufacturing, retail and construction has hit employment in those sectors, a situation the RBA warned was likely to get more difficult in the coming months.
"There is the possibility that in the near term, labour shedding across a range of industries outside of the mining sector accelerates as the firms continue to adjust to high exchange rates, weakness in the property market and the effects of a weaker public demand."