House prices fluctuating widely, Halifax says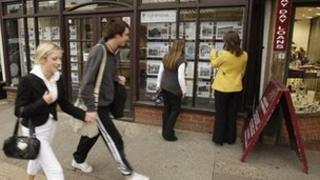 House prices in the UK fell sharply in April after the end of the stamp-duty holiday for first-time buyers, the Halifax has said.
It said the 2.4% drop last month was partly due to sales falling back, after they had risen briefly before the end of the tax concession on 24 March.
The lender said this had caused monthly price changes to "fluctuate widely".
Last month's dip took the cost of the average home down to £159,883, which was 0.5% lower than a year ago.
Despite this, the lender said the underlying trend showed prices still rising slightly.
"Prices in the three months to April were 0.3% higher than in the previous quarter, marking the first rise in this measure for seven months," said the Halifax's housing economist, Martin Ellis.
"The ending of the stamp duty holiday for first-time buyers in late March appears to have boosted home sales early this year as buyers strove to beat the deadline, and has probably contributed to the volatility in house prices in the last few months," he added.
Depressed
Howard Archer, of IHS Global Insight, said: "Housing market activity is very low compared to long-term norms."
"And the economic fundamentals currently look worrying overall for the housing market with unemployment high and likely to rise further, earnings growth muted, and the outlook uncertain," he added.
On Thursday, the Nationwide building society also reported that prices had fallen last month, though by just 0.2%.
However, its figures suggested that in the past few months prices had been falling slightly, rather than rising as the Halifax says.
The lenders construct their house price indexes from samples of their own mortgage lending, so it is not unusual for them to paint a different picture of recent trends in the market.
But both agree that prices have fallen over the past 12 months, with the Nationwide putting the annual fall at 0.9%.
"The big picture of depressed demand, fragile confidence and an underlying house price trend which is, at best, flat, was little changed this month," said Capital Economics.
"But news that the economy has fallen back into recession, that credit standards are tightening and that mortgage interest rates are edging higher all suggest that the market is more likely to weaken than to strengthen over the remainder of the year."